Boat2Go Boats to Rent Kayaks Sups
We are in Oliveto Lario – Vassena – 10 minutes from Bellagio direction to Lecco
Free Parking Available
Our fleet of boat rentals include Tullio Abbate fast boats. These boats are fully equipped, easy to operate and can be docked easily with no fuss or worry. It doesn't matter what experience you're looking for, the team at Boat2Go has you covered.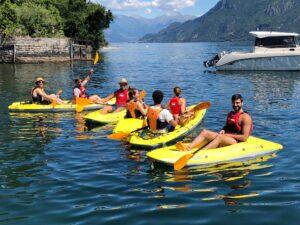 For those interested in angling on the scenic Lake Como, Boat2Go has an exclusive morning fishing trip rental price. Boat2Go has a discounted price for those that just want to go out and have fun fishing in the early morning. We have a number of different boating options available for rent. Single kayaks, double kayaks, innovative BIC brand kayaks, and SUPS. All our kayaks are modern and high-quality, easy to operate and once you start kayaking, you'll be visiting different locations around the lake in no time!
Our fleet: Tullio Abbate "Sunshine 500" boats. Sunshine 500 power boats are built for speed.
Powered by 40 hp Suzuki outboards, these boats are carefully designed to be fast, light and strong. They feature comfortable seating and are full equipped, 6 people max.
Life vests available for the smallest members in your crew
We are pet friendly! Do consider bringing an appropriate canine floatation device for your dog. They can easily tire swimming or accidentally fall/jump overboard.
Book online your boat! Click Here
Boat2Go Boats to Rent Kayaks Sups
Via Montello
Pontile a Lago
23865 – Oliveto Lario Fraz. Vassena (LC)
Tel: +39 039 9215788
Email: info@boat2go.it
Sito ufficiale: www.boat2go.it