Electric boat rentals on Lake Como
An ecological navigation system to explore nature in a totally silent and non-polluting way.
WHAT YOU CAN VISIT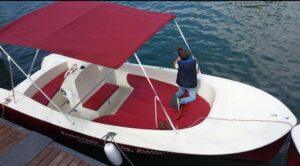 These ecological boats are the best way to explore Lake Como, reach Bellagio and visit the Pian di Spagna Natural Park with total respect for the nature.
It is therefore possible to go up the Mera river between reeds and water lilies and the Pian di Spagna Natural Reserve, where you can learn about migratory fauna: water birds, swans, coots, moorhens, mallards.
lake of Novate Mezzola the waterfalls and the small temple of San Fedelino, one of the most precious little churches of Romanesque art in Lombardy set in an evocative isolated landscape.
CHARACTERISTICS OF THE BOATS
The boats are seven-seat boats, with seven hours of navigation autonomy (with the engine running).
They don't make noise, you don't hear the unpleasant smell of gasoline, and they're ecological.
The boats are equipped to sail even in the evening.
All safety equipment (jackets, etc.) is provided.
They are safe boats, with space, cushions, sun-bed, awning, anti-overturning, which make it a perfect proposal even for families with children, even very small ones.
Your pets are welcome.
WHO CAN GUIDE
Electric boats are simple to use.
No license
ECONOLEGGIO COMO LAKE
Via Montecchio Nord, 10 23823 Colico (LC) Italia
+39 347 0704434
info@econoleggiocomolake.it
www.econoleggioaltolario.it