Hotel Restaurant G.L.A.V.J.C.
Hotel
The hotel overlooks a position fully panoramic lake.
The vi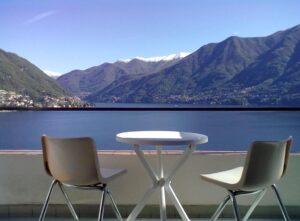 ew is magnificent, especially at sunset, on the whole lake basin toward Bellagio, the Alpine foothills and into Switzerland. The rooms with balconies sights, the rooms are immaculately maintained and equipped with bath or shower, direct dial telephone, satellite TV and a crib for baby.
Our breakfast is a rich buffet of various domestic and international, served in the panoramic restaurant or in Roomservice in the rooms.
At your arrival a large private car park with more than 60 parking spaces will ensure accessibility and free parking at any time.
You can usufluire the form of full board or half board.
Restaurant
The Restaurant "G.L.A.V.J.C." is a real balcony leaning on soothing waters of the lake, spend just a few hours is a refreshing feeling.
At lunch the panoramic veranda and fresh, the environment is more discreet for pleasant lunch break at work, passing through or leisure.
From Dusk Till then dinner in a romantic candlelight.
The wine list has good wines and serves pairings safe. Our Food: For the past two generations the kitchen Family Caminada is the soul of the restaurant "GLAVJC".
The success of your gastronomic finds the cornerstones in the great variety of the menu, by Chef "VALERIA CAMINADA", last pupil of the great Chef CARLO Caprani and descendant of the famous Rasina Confectioners, who won several medals in the world.
Hotel Restaurant G.L.A.V.J.C.
Via Cesare Poggi, 25/a –
22020 TORNO
COMO – Italia –
+39 031 419300