HOTEL VILLA GIULIA – RESTAURANT "AL TERRAZZO"
LOCATION for Weddings
The Hotel Villa Giulia Restaurant Al Terrazzo, inside a refined home of the end of 800, with its charming restaurant overlooking Lake Lecco, a corner of sublime beauty where you can spend happy moments in unforgettable company of your wedding. The beautiful rooms are elegant and refined, the large panoramic veranda to accommodate up to 180 people in a single room. We organize symbolic civil ceremonies in the panoramic terrace or in the romantic garden of the Well.
Services
Arrival on the private pier of the villa with a traditional "Lucia" boat or motorboat.
Fireworks, music…
Restaurant
The Restaurant Al Terrazzo, with a panoramic veranda, on the attractive bay of Lecco at the foot of the Resegone mountain, is the ideal place for marriages, receptions, business breakfasts, sumptuous dinners, with menues tailored to your wishes, musical entertainment and shows of various kinds.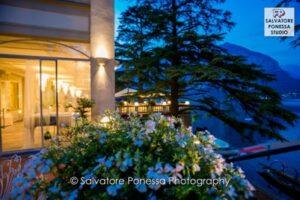 The Huge Veranda overlooking the lake will be the perfect location for your romantic dinners. The fantastic terraces contribute, together with the cuisine, to create an atmosphere of smartness to any ceremony or entertainment.
The Hotel 
The hotel Restaurant is managed directly by the Pagani family who also own the hotel. They have been very well known in the restauration and catering industry for some time and are recognized and appreciated for the expertise and professionality shown in their restauration facilities around the Lecco area.
An important role is played by the rich and refined kitchen with its international recipes, local specialties and new original dishes that made this restaurant a very important venue frequented by tourists, business men, international enterprises and celebrities of the entertainment industry.
Via Parè, 73 – Valmadrera (LC)
Tel:0341583106
www.alterrazzo.com
info@alterrazzo.com
Fax 0341-201118
Facebook