Silver Dream The Made in Italy Memory Foam Mattress
Discover silver dream
The Made in Italy Memory Foam mattress with silver ions at factory price.
IMAGINE RESTING AS NEVER UNTIL NOW WITH A HIGHEST QUALITY MEMORY MATTRESS
AND WITH AN UNREPEATABLE OFFER THAT YOU ARE ABOUT TO DISCOVER …
Sogno d'Argento is not a name born by chance. Its lining, soft and quilted, is treated with silver ions with B Silver Ag + ® technology.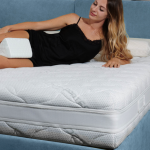 Bacteria are unable to live in the presence of even minute traces of silver. In this way we act against dust mites,
interrupting their feeding and reproduction cycle and guaranteeing freshness to the fabric avoiding the development of bad odors. In addition, the cover can be removed and washed easily.
This means, for you, resting on an always fresh, hypoallergenic and anti-mite mattress.
FACTORY PRICE
Precisely because, for over 30 years, we have been producing our mattresses directly in our factory in Brianza, we
can offer you the advantage of buying at wholesale prices.
Why should you bear the costs of the distribution chain, of the shops, of the commissions to the sellers when
instead you can buy directly from the producer and without intermediaries?
Give your money a new value.
100% MADE IN ITALY
We are passionate about our land. We have always created our mattresses in Italy and will continue to do so. For you this means the certainty of resting on a mattress built respecting the environment and the people who worked on it.
This is our way to ensure you the highest quality and a 10 year guaranteed product and to take care of your health with certified, hypoallergenic and non-toxic materials.
A WONDERFUL REST
Your days are made to be lived to the fullest. You deserve it. Much of the energy we need to deal with them
comes from the hours of sleep. Sogno d'Argento, with its height of 24 centimeters and the high quality structure
in Memory Foam, is able to adapt to your body and offer perfect support and a massaging effect.
It helps you to
solve the problems of neck and back pain and, quite simply, helps you sleep well thanks to the heat-sensitive
materials with which it is built. You will find energy, desire to do and enthusiasm.
A HIGH QUALITY STRUCTURE
Sogno d'Argento is composed of a flow area in water-foamed polyurethane and an upper part in Memory with
embossed processing, which allows easy air circulation, keeping the mattress fresh and with breathable capabilities.
Both components are produced in Italy and certified according to STANDARD 100 BY OEKO-TEX®. Finally,
these are joined with the use of odorless, hygienic and completely non-toxic water glue.
You can buy online at: www.sognodargento.it or in the store in Erba (co) c.c. "La Rotonda" Via Trieste, 12