The Sottovento restaurant overlooks a large terrace on the Lecco branch of Lake Como, from where, in addition to the Bellagio opposite, you can admire our mountains and the Swiss Alps which, until May, offer unforgettable postcards.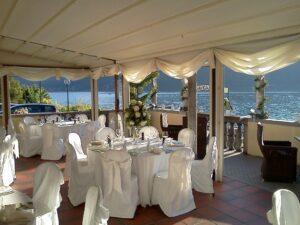 The pier located in the courtyard of the restaurant, full of suggestion a very quiet and reserved "disturbed" only by the lake and some duck. The internal hall allows to accommodate the kind customers all year round.
The chefs, Ivan Bartesaghi and Giacomo Baruta combine their international experience with seasonality and tradition in creating the restaurant's menu, while for weddings, banquets and ceremonies, the proposals are personalized.
The Restaurant
In a very special atmosphere, the staff will guide the Leeward with his friendliness and willingness to discover the flavors of the lake and beyond.
The restaurant has a dining room, a garden ideal for a casual drink and a large terrace which offers a breathtaking view of the lake and its unmissable sunsets, perfect to celebrate important occasions or just to enjoy our food.
The Leeward also has a private parking and is accessible by land or by boat, through the daily ferries sail from the main lake resorts.
The Leeward restaurant is located by the lake in the heart of Lierna, a town of Lecco branch of Lake Como,
in via Pier 3
Restaurant LEEWARD LIERNA – Dock Street, 3-23827 Lierna (LC)
tel: 0341.740.005 – Fax: 0341.880.125
www.sottoventolierna.it
info@sottoventolierna.it