Relais Villa Vittoria and restaurant "Le Luci del Lago"
Relais Villa Vittoria, an ancient residence of 1850, offers to the guests wishing to relive the evocative atmosphere of the past a refined environment and offers romantic and fun experiences that will enrich the holiday making it unique and unforgettable.
The large and bright rooms and suites each ones have their own style and some have a terrace and balcony where you can have breakfast while admiring the lake.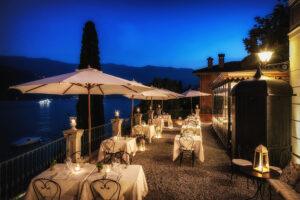 The terrace of his restaurant "Le Luci del Lago" has an enchanting view of the lake and allows, during the summer months, to enjoy a refined dinner in the cool of the evening. Typical dishes of traditional Italian cuisine and of the Lario region are served.
The Villa has an infinity pool with solarium and light lunch bar.
At guests' disposal, kayaks and bicycles.
At the Relais there is a Wellness Corner with refined decorations with an oriental flavor where to revitalize the body and restore the spirit. The Wellness Corner is equipped with a large whirlpool, a relaxation area from which to enjoy the spectacular view of our lake and a night blue Turkish bath with a starry sky.
It is possible to enjoy various types of personalized treatments, massages and rituals accompanied by a pleasant aroma.
Relais Villa Vittoria offers a variety of characteristic internal and external environments ideal for private events of all kinds … from intimate and romantic dinners to dream weddings, from family reunions to bachelorette parties, from birthdays to important occasions … It is also possible to organize dinners in the lounge accompanied by piano bar music.
Contacts
Relais Villa Vittoria
www.relaisvillavittoria.it
info@relaisvillavittoria.it
Via Vecchia Regina 62, 22010 Laglio (Co)
tel: +39 031400859
"Le luci del lago" Restaurant
www.lelucidellago.it
info@lelucidellago.it
Via Vecchia Regina 62, 22010 Laglio (Co)
tel: +39 031400859