Villa Del Balbianello
The Villa : Beautiful villa located on a promontory in the middle of Lake Como. "Place of delights" established by Cardinal Durini in the eighteenth century, is still today one of the most beautiful and romantic villas of the lake.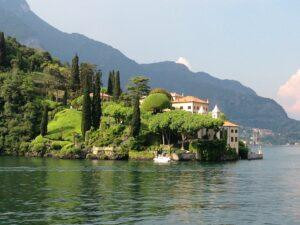 Unique is the terrace overlooking the lake, dominated by the huge oak potato umbrella, as well as the balcony, from which you can enjoy an unforgettable view. Inside precious furnishings and art collections and the museum which houses the relics of the explorations of Count Guido Monzino, the last owner.
How to reach : Lake Highway (A9), exit Como Nord (the last exit for Italy), then SS 340 "Queen" to Lenno. "Parking market" free Lavedo location, close to the Lido di Lenno. On foot: from Lenno, Church Square, follow the signs (about 1 km, slightly uphill). By ferry: boarding from Lido di Lenno with boat-shuttle service (€ 5 each. / R).
For information and reservations:
FAI – Villa del Balbianello, Lenno (Co):
tel. 0344-56110 faibalbianello@fondoambiente.it
For more information about FAI: www.fondoambiente.it