Casasco Intelvi
Altitude 822 mts., 31 Kms. from Como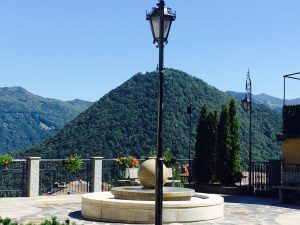 Casasco Intelvi is an agricultural and tourist center, located in a beautiful panoramic position on one side of Val d'Intelvi, at the feet of Pizzo della Croce (1,491 mts.). In the village the Ferradini Palace is a remarkable site, dating back to the XVII century, with a beautiful portal and inner courtyard with an open gallery. Casasco is an important point of departure for excursions, as well as a base for alpine climbing up Mount Generoso. At 1,180 mts. you can find the G. Bruno Shelter, of the Cai (Italian Alpine Club) section of Como. The area is more populous in the winter season because it is equipped with tracks and skiing facilities. From the village you can reach the Shelter up Mount Crocione, at 1,463 mts. of altitude, just under the summit of Pizzo della Croce.
SIGHTS
Church of San Maurizio
Built in the XVI century and, afterwards, enlarged and decorated towards the half of the XVIII century, the church contains a fresco, believed to be a work by B. Luini.
Oratory of the Madonna del Carmine
Dating back to the XVII century, restored in 1.886, presents, especially in the chancel, stucco decorations of the eighteen century by the local artist L. Ferradini.
EVENTS
July and August: outdoor dancing organized by the Pro Loco.