Blevio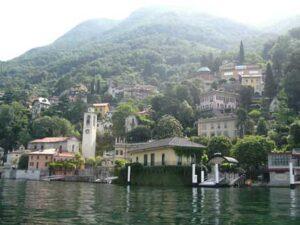 It is the first commune on the road from Como to Bellagio. It is divided into seven wards, known as the sette città (seven towns). The oldest documentation of the area goes back to 1.084 and carries the signature of the Bishop of Como, Reginaldo. He bequeathed his property in the commune to the cathedral of Como. Strained by excessive taxes, the inhabitants of the village joined those of Torno to ask the Duke of Milan for fairer taxation.
In the fifteenth century, Blevio became part of the territory of the Tre Pievi. It was then ruled by the Spanish and the inhabitants built lazarettos on the mountains to treat the lepers who had been infected by the plague.
There are many beautiful villas in the area, including the famous one which was owned by the acclaimed singer, Giuditta Pasta, in the eighteenth century. She is buried in the small local cemetery.
SIGHTS:
The Church of San Gordiano and San Epimaco
This church was built in the second half of the seventeenth century. It has a remarkable facade with two structures, crowned by a tympanum. Inside, there is a seventeenth-century painting attributed to Nuvolone.