Argegno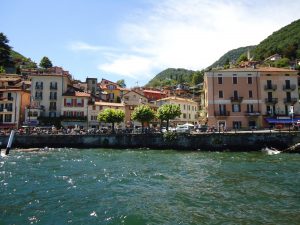 A popular destination for tourists, Argegno is situated in a large inlet on the western shore of Lake Como, at the mouth of the Val d'Intelvi. It has a pleasant climate and it is mild even in the winter months. With its beautiful panoramic location, one can see from the headland of Bellagio to the north and as far as Nesso towards the south. The village is certainly of Roman origin, infact it ownes its name to the consul Publio Cesio Archigene. At one time, Argegno was part of a defensive system, which extended as far as the ancient villa of Lenno and the Isola Comacina to obstruct the passage of invaders.
The ancient centre of the village is very picturesque. It is crossed by the Telo stream and is divided into two parts, which are joined by an old stone bridge with a lancet arch.
Argegno – Lake of Como – The village
From Argegno, it is possible to take a cable car up to Pigra (881 mts.), which is situated on a plateau that enjoys a beautiful view of the lake. From here, it is possible to go on to the Valle della Camoggia, which is in the oasis of Argegno-Cima della Duaria, a conservation area.
The road, which runs along Val d'Intelvi, also starts from Argegno and, through this, after about about 15 kms., you arrive to Lanzo.
SIGHTS:
The Sanctuary of Sant'Anna
This was built in the seventeenth century but it was subsequently renovated. Inside you can find stuccowork and frescoes from the seventeenth and eighteenth centuries. The Oratory of San Rocco in Pigra
Built in the fifteenth century, it contains frescoes from 1.662 signed by S.
Pozzi.