BRUNATE CABLE-CAR and LE VIE DELLE COLME
This trip last around 2 hours and commences at the cable-car station in Como, Piazza de Gasperi. Taking the 500mt cable-car up to the picturesque hill-top village of brunate with a maxium gradiant of 55% takes just over 6 mins. The village is 750mts above sea level.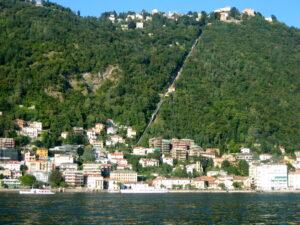 We recommend you visit this village which is known as the "balcony" of the Alps. It has an enviable position offering views of Como, the lake, the plains of Lombardy, the Appennines, the Alps, Mount Monviso and Mount Rosa. From Brunate you can reach San Maurizio (906 m) and visit the Voltian Beacon which was built in 1927 and the magnificent Marenghi Park. From San Maurizio the road continues on up to the Capanna Cao and the Sanctuary of Santa Rita (the smallest santuary in Europe). You can walk to the alpine huts ("Baite") located along the summits of the various hills overlooking the Lake: Baita Carla, Baita Bondello, Mount Bolletto (1236 m), Mount Bollettone (1204 m) and Mount Ballanzone (1436 m).
Spring/summer is the best seasons for these walking tours. The fabulous greenary, fresh air and a welcoming breeze in Brunate attract many tourists escaping the city heat.