Carate Urio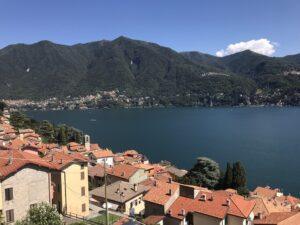 Situated on the western shore of Lake Como, the commune consists of the two distinct centres: Urio and Carate Lario; they were administratively united in 1.927. Urio, rich with residential villas, is situated in a beautiful panoramic position, on a slope facing the lake. An impressive castle, once, stood here and its remains are incorporated in the eighteenth century villa which is the present headquarters of the International Centre of Studies of Opus Dei. Carate Lario, in a less panoramic position, has not been affected much by urbanisation and has a remarkable layout with old houses and stepped lanes. Both of the centres have ancient origins: Gallic tombs and the remains of Roman civilisation have been found in the area.
SIGHTS
Church of SS. Quirico e Giulitta
Originally a Romanesque construction, the parish church dedicated to St. Quirico and St. Giulitta was built in 1.865. The bell tower (12th century), from the original building, is still standing and has two levels of mullioned windows with two lights with arches above them.
Church of S. Marta
This Romanesque church, which dates back to the eleventh or twelfth centuries, has for the most part been conserved. It is in a panoramic position and has a number of very old frescoes.