Cernobbio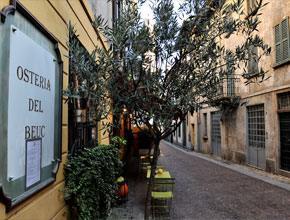 Leaving Como and taking the Via Regina which runs along the west shore of the lake, the first village on the way is Cernobbio, a famous residential centre on the edge of the lake and at the foot of Monte Bisbino. The name derives from an old convent, "Coenobium", which was situated where Villa D'Este is now found. The village of ancient origins underwent many vicissitudes before it succeeded in obtaining its own privileges and legal status in the thirteenth century. There was a period of decline in the sixteenth century as a result of Spanish invasion and plundering.
In the last century it was already a popular destination for holidaymakers. Famous for its villas and hotels, Cernobbio is also an important industrial centre. One of the first factories for the industrial production of silk was set up here. From the village there is a scenic route which leads to Monte Bisbino (1,325 mts.). After Rovenna, near the farmhouses of the Alpe Scarone, at a height of 585 mts. is the Buco della Volpe (Foxhole), a large cave with pools and underground streams. On the top of the mountain there is a sanctuary of the Virgin Mary, which dates back to the fifteenth century. From here one can enjoy the beautiful view of the lake, the Alps and the plain below. Cernobbio is the starting-point for the "Via dei Monti Lariani", a long and scenic trail between the heights of 600 and 1,200 mts. and which is signposted all the way by the Italian Alpine Club.
SIGHTS: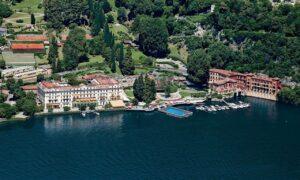 Villa D'Este
It was built for Cardinal Tolomeo Gallio in the sixteenth century but its present name was given to it in 1.815, when Princess Caroline of Brunswich, a descendant of one Guelfo d'Este, took residence there. It passed through a number of owners until it was renovated and turned into a luxurious hotel. The hotel has a collection of sixteenth-century paintings and sculptures. It is surrounded by a large park, with caves, fountains and statues.
Church of S. Michele di Rovenna
Renovated in the eighteenth century, it contains a Romanesque processional cross (eleventh century) and a valuable carved baroque altar designed by G.B. Barberini.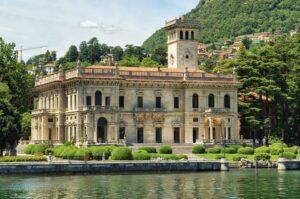 Villa Erba
Today a prestigious multipurpose centre for various events and congresses, it was built in 1.898 on the site of the already existing Villa Nuova on the grounds of a medieval monastery. Visited by appointment
Villa Pizzo
Built in the sixteenth century and restored a number of times, it contains frescoes from the seventeenth century. The vast park in which it is situated is rich with old trees and a great variety of plant species