Desserts & snacks
More than real desserts, the ours are home cakes, very savoury, that we usually have for breakfast or for a snack during the afternoon.
A nice thing for people that live alone or for two people families is to buy a small cake tin and to use half of the products of the recipe. You will get some good minicakes! So you'll have a fresh cake but you'll not eat it for days and days…!
The temperature of the oven is very, very important for the cakes! As every oven is different, it's better to heat it at some degrees less and, in case, to cook a bit longer!
Cutizza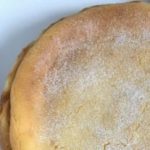 This is eaten as a dessert. It once was once a snack called "the cake of the poor" due to the fact that the poor could not afford flour.
It is called Cutizza (also Paradell), which is a simple dough of flour and water, or if made with milk and flour it is called "laciada".
Years ago the frittura was made with only a little oil in a wide and high frying pan which hung on a chain over the fireplace. This way the dough mixture when poured in became ready and crunchy in just a few minutes.
The cutizza (or paradell and laciada) was then served at the centre of the table and people helped themselves.
Season: every
Difficulty: å
Preparation Time: 15′
Ingredients for 4 people:
200 gr. white flour
180 gr. Whole milk
Oil for frying
3 eggs
Lemon rind
Vanilla sugar
Salt
Method:
Break the eggs in a bowl and while beating them add the grated lemon rind and milk. Work the mixture to obtain a smooth consistency without lumps. Heat the oil in a frying pan and pour in the mixture. Cook on one side and then turn over to cook the other side. Sprinkle with sugar and serve warm.
The 'cutizza' can be eaten as a snack or as a cake after supper accompanied with a sweet white wine. e.g. Muscatel. As a snack, a sparkling red goes well. A variation is to add a slice of apple.
Miascia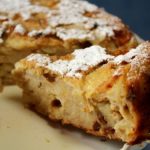 This is an other 'poormans' cake. It is also known as 'Meascia' or "turta of paisan". In this recipe bread is used but some recipes will call for a dough of yellow and white flour. In days past it was eaten as a main meal to give a one a lot of energy.
Season: autumn/winter/spring
Difficulty: åå
Preparation Time: about 15 minutes
Ingredients per 6 people:
500 gr. Stale bread
2 eggs
3 amoretti (almond biscuits)
½ liter. milk
50 gr. grapes
1 glass of amaretto liquor
75 gr. sugar
50 gr. Bitter chocolate broken into pieces
1 tablespoon of white flour
1 apple
1 pear
20 gr. Pine nuts
30 gr. Butter
Method:
Slice the bread and place in a tureen dish with the milk and leave for approximately 2 hours.
Then squash the bread into the milk with a spoon. Add the eggs. Then the grapes that have been soaked in tepid water, the sliced apple, sliced pear, the pine nuts, sugar, liqueur and the macaroons broken into pieces.
Combine the mixture well and pour into a greased and floured cake tin. Sprinkle with sugar and the grated chocolate then garnish with pieces of butter.
Bake in a pre-heated oven of 200°C for 15′ then lower the temperature to 150°C and cook for a further 15′.
Best served warm with a sweet dessert wine.
Rusumada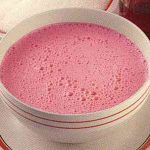 The rusumada (also called rosumada) is an ancient drink, consumed like a snack. It is prepared quickly and eated immediately.
It is considered a tonic and used to prevent the symptoms of a cold.
Season: summer
Difficulty: åå
Preparation Time: 5′
Ingredients:
4 tablespoons sugar
4 eggs
4 glasses of red wine
Method:
Put in a bowl the sugar with the egg yolks and beat until the mixture is lightened in color. Beat the egg whites and gently add the yolks trying to maintain the soft and light consistency.
Slowly add the wine keeping this consistency.
Serve immediately.
You can accompany it with small tartlets or biscotti. The wine can be replaced with milk or water.
The red wine can also be replaced with Marsala and the mixture cooked as a bain-marie, which then will become a classic zabaglione.