Landscape
Situated in a basin surrounded by wooded mountains, Lake Como offers an extremely varied landscape. Its shores features a succession of pastures, woods, harsh and impressive rocks, charming villages facing the lake, magnificent mansions with beautiful gardens.
The middle of the lake, where its three branches come together, has the mildest climate and offers the broadest view. This point can be reached by boat. Here you will enjoy a lovely view of the whole promontory of Bellagio, of the northern Grigna mountains overlooking Valsassina, and, with clear skies, of the upper basin with the Alps in the background. Along the shores, in particular from Cernobbio to Gravedona and Bellagio, you will see wonderful villas and gardens with plenty of flowers as well as exotic and rare plants.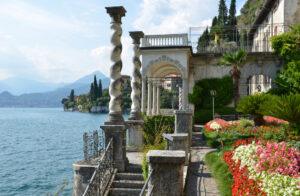 For instance, Villa d'Este in Cernobbio, which is today a luxurious hotel, has a magnificent garden as well as Villa Passalacqua in Moltrasio.
The wonderful Villa Arconati dominates the Punta di Balbianello in Lenno and is one of the most famous villas in the Tremezzina area together with Villa Carlotta, which is rich in artistic masterpieces and natural attraction, with its garden full of blossoming flowers.
Located on the opposite shore at Bellagio, other Villas, like Villa Serbelloni, which has been turned into a Grand Hotel and Villa Melzi, with its marvellous botanic garden, are really delightful.
The Lecco branch offers the harsh but very suggestive view of the southern Grigna Mountains (2,184 mts.), of dolomitic origin, and of the Corni di Canzo (1,373 mts.), which slope down towards the lake and form charming creeks.
Besides the peculiar views of the Lecco branch of the lake which turns southwards, there are natural springs like Fiumelatte, described by Leonardo da Vinci and the impressive Orrido di Bellano situated not far from the Renaissance Villa Monastero at Varenna.