Porlezza
This town, which sits on the eastern banks of Lake Lugano, is surrounded by verdant mountains that are a favorite destination for excursions and hiking.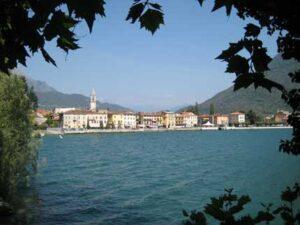 The town of Porlezza also includes the districts of Tavordo, Begna, Agria and Cima. Both the town and districts have many noteworthy churches of artistic value.
Porlezza, an important tourist and commercial center, is situated in the Italian territory north-east from the Lake of Lugano (Ceresio).You can get there either across Switzerland, along Ceresio, or through the Italian territory, traveling along the Statale Regina up until Argegno and then going through Val d'Intelvi, or going to Menaggio from where a junction to Porlezza departs.
The place is very busy above all in the summer period, since, besides being a seaside resort rich with tourist facilities, it allows a number of hiking tours on the neighbouring mountains.
Of considerable historical interest is the suburb of Cima, that maintained a typical medieval structure with ruins of ancient walls and fortresses. A few kilometers away from the town, heading towards Menaggio, you can visit Lago del Piano and the Orrido di Corrido, and towards Val d'Intelvi the caves of Rescia, rich of evocative stalactites and stalagmites, and the Orrido di Osteno.
SIGHTS
Ruins of the Church of S. Maurizio
Buried from a landslide in the XVII century, the little church of S. Mauritius reappeared during excavations conducted since 1966. For centuries, of the whole building, only the bell-tower remained visible (XII century) with smooth masonry, double floor monofore and two plans of windows with double arch. The recent excavations restored the small oratory which had disappeared: an irregular little nave with a rough wall structure, an abside decorated with lesene and little arch under gutter in tufa; everything to be dated back around the X century.
Church of S. Vittore
Raised in 1634, it presents a facade realized in 1840. Inside: fresco by G. B. Pozzi of Valsolda; eighteenth-century statues; stuccos and paintings of the ineteenth century.
Church of SS. Materno e Martino, at Corrido
Raised in the second half of the Sixteenth century on the remains of a previous building, it has three naves, with canvases of the six and seven hundred, frescos, paliotti in scagliola and a wooden crucifix in a golden frame.