VILLA CARLOTTA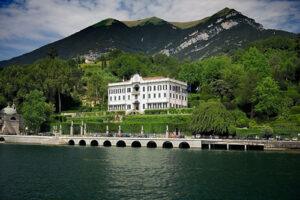 The beautiful villa was built at the end of XVII century by the Milanese marquis Giorgio Clerici in a natural basin between lake and mountains, facing the dolomite Grignas and the peninsula of Bellagio.
The architect created for the Clericis an important but sober building, with an Italian garden decorated with sculptures, stairs and fountains. In 1801 Gian Battista Sommariva, famous politician, businessman and patron of arts, bought the villa.
Thanks to this owner the property in Tremezzo attained the summit of its splendour and became one of the most important halting-place of the Grand Tour.
Famous for its large park and the art collection which contains, was erected in the eighteenth century by the Marquis Giorgio Clerici, it refers to the big "C" inserted in the gate to the lake. In 1796 it passed to Sommariva, then in 1856 the Alberta Princess Marianne of Prussia, who gives it to his daughter, Princess Charlotte of Prussia from which it takes its name.
Externally marked by spectacular staircases pincer, while inside the villa contains some treasures: marbles of Canova, including "Cupid and Psyche", the most famous work of the villa, completed in 1824 by Adam tables, the great frieze of Berthel Thorvaldsen with the Entry of Alexander the Great in Babylon, sculpted from 1817 to 1828, friezes of Tordwalsen, commissioned by Napoleon in 1811-12 for the throne hall of the Quirinal, was then executed in marble for the Count Sommariva in 1816-28, the Last Kiss of Romeo and Juliet by Francesco Hayez, frescoes, tapestries and furniture of the XVIII-XIX centuries. In the neo-classical chapel (1855) there are high reliefs of P. Marchesi.
In the hall of the plaster casts, among other things, drawings, reliefs and statues for the arc of the peace of Milan Acquisti and Pacetti (1815).
The English garden built by Grand Duke George of Saxony Meiningen rich in rare and exotic plants, now is a botanical garden appreciated all over the world, where, thanks to the exceptional climate of this part of the lake, you can enjoy a botanical heritage more than 500 species.
Since 1927 the villa is owned by the state, who runs through the Independent Villa Carlotta.
In the heart of the park, in the old greenhouse in the early twentieth century will find coffee specialties in a characteristic and refined, in front of a stunning lake view.
After the winter closure, March Villa Carlotta reopens to the public!
Via Regina, 2 – 22016 Tremezzina – Loc. Tremezzo, Como
Tel:+39.034440405
www.villacarlotta.it
segreteria@villacarlotta.it