REMEMBRANCE PATHS:
THE TREMEZZINA BATTLE AND THE END OF THE TYRANNY (1944-45)
An easy walk (about 2 hours) through the Tremezzina territory allows us to live again two pivotal events in the story of Italian Liberation War.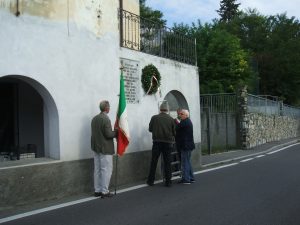 In the site Mezzegra we can find a parking place in the surroundings of the main square, Piazza 28 aprile 1945, whose title introduces the first half of this itinerary: its theme is the end of the tyranny in Italy with Benito Mussolini's death.
Let's make a short detour to the State Route towards Tremezzo and see the Hotel Lario, former Hotel Milano: in 1945, April 27, the local Committee for National Liberation took office here. Back to the main square we climb up through the parking lot and the narrow Via del Riale, and find the former De Maria House where Mussolini and his mistress Claretta Petacci spent their last night. Their path to the execution site follows Largo Valle in Bonzanigo hamlet, the road down the slope to the little Chapel of Our Lady of Good Counsel, and finally Villa Belmonte.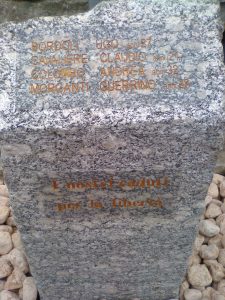 A memorial stone for the Partisans from Tremezzina who died during the Liberation War was recently erected not far from the site: among them, the unlucky participants in the so-called Lenno's Action or Tremezzina Battle of 1944, October 3. A handful of men attempted the kidnapping of a Minister of the Salò Republic (bureau, Ministries, Military Commands and diplomats had occupied villas and hotels in the whole central area of Lake Como), but their attack ended in tragedy.
Crossing a territory of small villas, gardens and orchards we touch the Pola hamlet and then climb down to Lenno through a path likely walked by the partisans, not far from the Hotel San Giorgio and the former Luoni Bakery: the firefight took place inside it. A stone slab commemorates the fallen; another memorial slab, for a partisan belonging to a squad in charge of cutting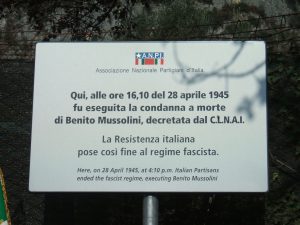 communications, stands at Prati di Villa.
If you have time enough, in Mezzegra the Casa dei Presepi is worth a visit (Cribs' Museum, just at the entrance of a mountain track to Pràa de la Taca that was deemed to be the meeting-point of witches for their Sabbath), as well as the wonderfully frescoed St. Abbondio church. Among the most interesting places to see in Lenno we quote at least St. Stefano parish church with its early-medieval crypt and baptistery, the little St. Andrea church, the medieval tower, and the world-renowned Villa Balbianello, a property of Italian Foundation for Environment (FAI).