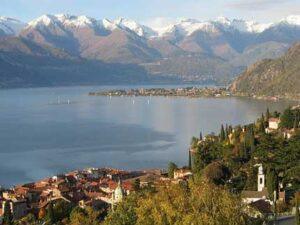 Bellano is a thriving tourist and industrial centre situated in a pamoramic position on the east coast of Lake Como, at the mouth of the Valsassina on the delta of the Pioverna stream.
During the Middle Ages it was the feud of the Archbishops of Milan and was subsequently controlled by the Visconti and the Sforza families.
The statutes which the town issued during the communal period and which were in force until 1.700 have been preserved to the present day. There are still ornate houses with beautiful facades in the oldest part of the town.
The Orrido di Bellano is a famous gorge formed by the waters of the Pioverna, which gust through a narrow passage beetween high rocks. This can be visited by way of a suspended footbridge. Three kilometres from the town one comes to the village of Lezzeno where, on the road for Vendrogno, the Santuario della Madonna delle Lacrime is located. From Bellano it is possible to reach the Pian delle Betulle (the plain of birches), which is at a distance of anout 11 kms. going along the valle del Pioverna.
SIGHTS:
The Church of San Nazario and San Celso
Built in 1.834 by Azzone and Giovanni Visconti and designed by Giovanni da Campione, it is an example of Comacina architecture with a Lombard influence. With Romanesque-Gothic features, alternating white and black surfaces in the central section, the facade is crowned by a small arches and opened by threee portals and a rose window with a brick cornice in green enamel.
There is a niche over the central portal. In the 16th century modifications were made to the bell tower (1.567), the apse and the vault. Inside there are three aisles and pointed arches supported by square columns. There are frescoes from the Lombard school and a fourteenth-century polytpych.
Santuario della Madonna delle Lacrime, a Lezzeno
Erected in 1.690, and designed by the architect Quadrio, it has a soberly Baroque facade. Inside there is only one aisle with the front part centrally planned, and a big presbytery and choir. It contains many ornaments in stucco, statues and 16th/17th century frescoes.