COMO CITY WALKING TOURS
ITINERARY: Piazza Cavour – With visits to the 'Monumento alla resistenza', 'Tempio Voltiano', 'Monumento ai Caduti', 'Villa Olmo';
DURATION: Around one hour
The tour kicks off in Piazza Cavour. From here walking west, you travel along the 'Lungolario Trento' until reaching the public gardens. Continuing along the lake you will arrive at the edge of a dam which strectches out towards the middle of the lake. On the left hand side there is a large area of green where the 'Monument to the Resistance', which was built in 1983.
Following on, you'll come across 'Tempio Voltiano' (viale Marconi tel. 031.574705, open from November to March from 10am to 12pm and from 2pm to 4pm, from April to October from 10am to 12pm and 3pm to 6pm(closed Mondays). It is an elegant building in a neo-classic style where several releics of Alessandro Volta have been kept over the years. Il Tempio fu eretto, nel 1927, su disegno dell'architetto Federico Frigerio, in occasione del primo centenario della morte dello scienziato comasco.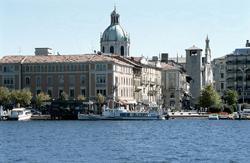 Non lontano, si erge in mezzo ai cipressi l'imponente Monumento ai Caduti, alto 33 m. e a forma di torre, progettato dall'architetto Giuseppe Terragni su disegno del futurista Antonio Sant'Elia. È una ardita costruzione, recante, nel sacrario, un monolito granitico col nome dei Caduti Comaschi durante la Prima Guerra Mondiale.
Seguendo viale Puecher, si oltrepassano sulla destra la sede della Canottieri Lario e del Circolo della Vela di Como, e sulla sinistra lo stadio Sinigaglia, dedicato ad un campione del remo comasco deceduto nella Prima Guerra Mondiale, sino a giungere a un piazzale dove si trova l'hangar, sede dell'Aeroclub Como e della scuola di idrovolanti e dove se avete voglia potete prenotare un giro in idrovolante.
Da qui si imbocca la passeggiata pedonale di Villa Olmo, che costeggia il lago, in posizione panoramica, con vista su tutto il primo bacino e sulla città. Dopo aver oltrepassato la sede dell'Amministrazione Provinciale, costruzione neoclassica attribuita al Pollack, contrassegnata all'esterno da una bella sala ellittica, detta la Rotonda, e la susseguente Villa Gallia, sempre di proprietà dell'Amministrazione Provinciale, si arriva all'ingresso dei giardini di Villa Olmo.
Il parco che la circonda è aperto al pubblico. Al suo interno si trovano: la sede del Tennis Club Como, alcuni ristoranti e, affacciato sul lago, il Lido di Villa Olmo, con due piscine, frequentatissimo nella stagione estiva. Nel parco si trovano anche un tempietto neoclassico e un corso d'acqua. Nel centro del giardino, davanti alla villa, si innalza una fontana di marmo, opera dello scultore G. Odofrechi, formata da un'ampia vasca sporgente, al centro di un tappeto erboso, e ritraente due putti che giocano trascinando una specie di mostro marino.
ITINERARIO: piazza Cavour – S. Agostino – viale Geno – Villa Geno;
DURATA: 1 ora circa
L'itinerario ha inizio in piazza Cavour e prosegue a destra sul Lungolario Trieste fino a giungere in piazza Matteotti, dove si trovano la stazione delle Ferrovie Nord Milano e quella dei bus. Non lontano, c'è la chiesa di S. Agostino, con un bel portale romanico.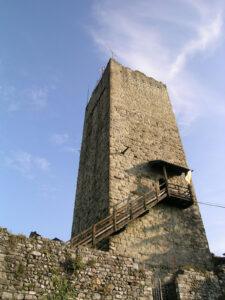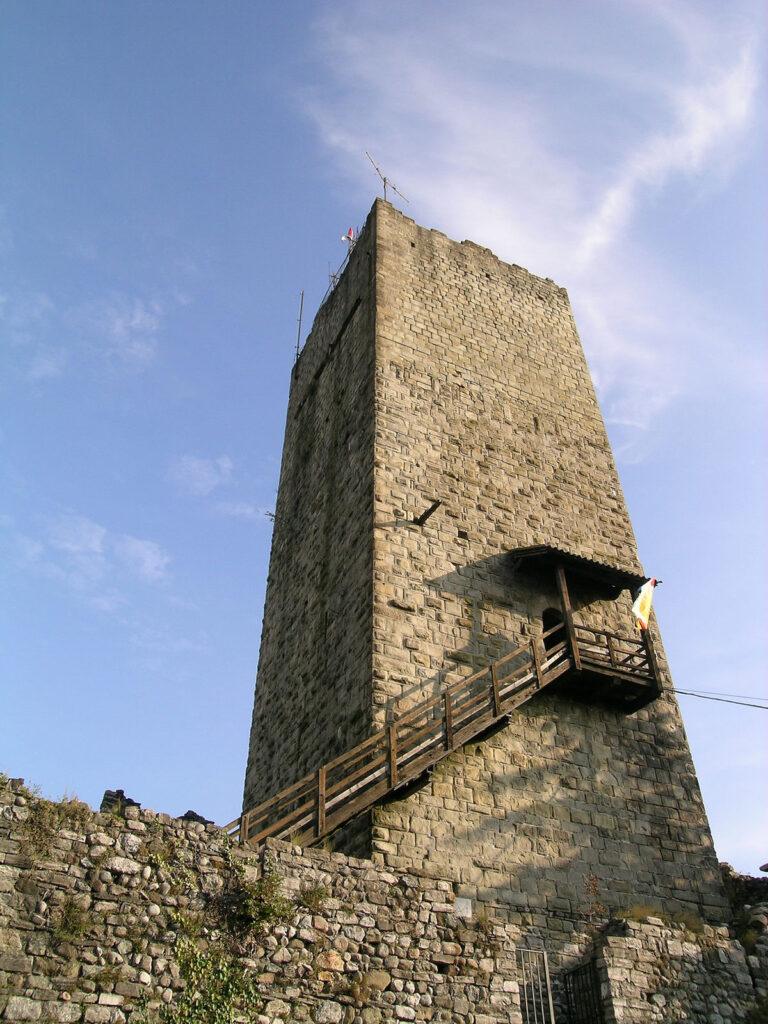 Proseguendo lungo il lago, si superano il molo in pietra, che delimita il porticciolo di S. Agostino e il piazzale della funicolare per Brunate. Si percorre, quindi, per un lungo tratto la passeggiata di viale Geno, da cui si gode di un bel panorama del lago, della città, della sponda opposta del bacino e del Castello Baradello.
Sulla destra, si oltrepassano belle ville private con giardini e parchi. In fondo al viale si allarga un piazzale dove su una punta affacciata sul lago si erge Villa Geno. Davanti alla villa si trova una fontana il cui getto può raggiungere quasi quaranta metri d'altezza.
Una parte del parco di Villa Geno è stata adibita a lido comunale, con una piscina scoperta e un bar, aperto solo durante il periodo estivo.
Proseguendo sulla strada si arriva alla darsena di Villa Geno, recentemente ristrutturata. Dalla darsena in poi la strada conduce solo a ville private.