Tremezzo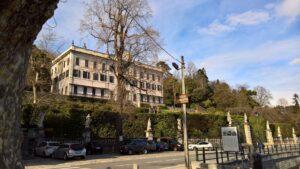 This village is one of the most famous tourist resorts of the area and is situated on the western shore of Lake Como, opposite Bellagio, with a view of the central basin and the Grigne. The impressive villas and big hotels, dating back to the 17th century, which stand along the edge of the lake, have made Tremezzo an international tourist destination. In the area of Rogaro, it is possible to visit an ancient tower, with the ruins of fortifications built in the early Middle Ages.
Starting from Tremezzo, one can take a panoramic trip to Monte Crocione; take the road to Intignano, then continue on foot the mule track for about 3 hours.
The village spreads from the shore to the hills in the background with its clusters of Susino, Balogno, Viano, Intignano and Rogaro. So, we can say that Tremezzo has two souls: one of the coast and the other of the mountain, both of great beauty and glamour, which gives to tourists and visitors the opportunity to choose between lake and hills, with equally interesting itineraries.
SIGHTS:
Villa Carlotta
Famous for its extensive gardens and the art collection, it was erected in the 18th century, by Marquis Giorgio Clerici, whom the big "C", on the gate, refers to. In 1.796 it was taken over by the Sommariva family.
In 1.856 it was passed on to Princess Marianna Alberta of Prussia, who gave it, as a present, to her daughetr, Princess Carlotta of Prussia.
Externally the villa is characterised by beautiful staircases. It contains marble statues by Canova, including the famous "Amore e Psiche", friezes by Tordwalsen, paintings by Hayez, frescoes by Appiani, tapestries and furniture from the 18th-19th centuries. In the neoclassical chaple (1.855), there are alto-relievos by P. Marchesi.
Today the villa belongs to the State and is run by the Ente Villa Carlotta.
Villa "La Quiete"
Situated in the locality of Bolvedero, it was built by the Dukes of Carretto, in the 18th century. The abbot poet Giuseppe Parini lived in the house, holding the position of tutor. Owned by the Counts of Sola Cabiati, it is luxuriously furnished.
Villa "La Carlia"
A excellent construction, from the middle of the 1700s; it was designed by Antinio De Carli.
The Church of Santa Maria
This church contains the statue of the Madonna Nera, brought from the basilica of Einsiedeln, in 1.917, by a family of Swiss Catholics