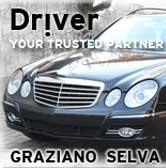 DRIVER NCC
CAR RENTAL WITH DRIVER
Quality, professionalism and courtesy. we are at your disposal to reach the main destinations.
Connections to Milan, Venice, Turin, Genoa, Varese, Lugano, Lake Maggiore, Lake Garda and SKY AREA: Valtellina, Valle d'Aosta, St. Moritz and the Dolomites.
Accompaniment with tourist guide (English speaking) to visit Milan city, and tour of Como Lake and Maggiore.
Phone: +39.3478356707
graziano.selva@gmail.com